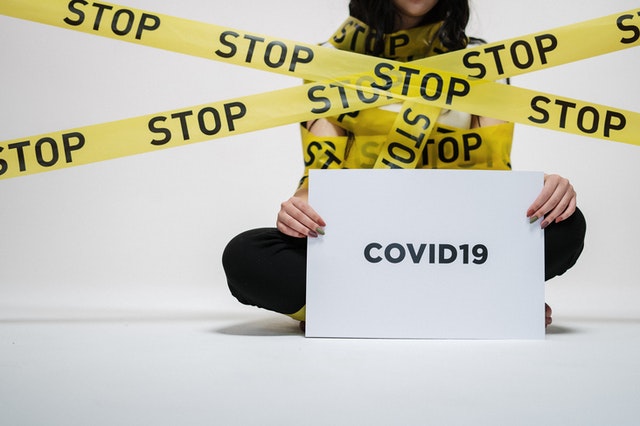 What is Coronavirus?
Coronavirus is a family of viruses that usually causes the common cold. SARS-CoV-2 is from that family and it causes COVID-19 disease.
What is COVID-19?
COVID-19 is an infectious disease caused by SARS-CoV-2 virus. It is a respiratory illness that is associated with fever, cough and trouble breathing.
Why are we concerned?
We are concerned because this is a novel (new) virus. We did not know too much about this virus when it was first discovered. We now know a bit more, but we still have a lot to learn. The unpredictable nature of this disease is of great concern. It is still affecting people and changing the way we go about our daily lives.
How is it transmitted?
The virus that causes COVID-19 spreads primarily through droplets. Droplets from an infected person can be transmitted from nasal discharge or from saliva when someone speaks, sneezes or coughs. It is important to remain physically distanced, six (6) feet or more from another person to minimize the risk of getting infected.
Inhaled or aerosolized transmission can occur when the virus is suspended in the air that you breathe. When aerosolized, the virus can last in the air for up to 3 hrs.
Contact can occur when someone touches an infected surface then touches the face.
Can SARS-Cov-2 be transmitted by mosquitoes?
At this time, there is no evidence to suggest this is a means of transmission.
Can this virus be transmitted via pets?
Pets can become infected. Per report, there has not been any evidence of pet to human transmission. We are still learning about this virus.
What are the signs and symptoms?
As the virus spreads, some people may become asymptomatic, meaning being infected with the virus, but not showing any signs or symptoms of the disease. Some may have a mild respiratory presentation and recover without having any special treatment. There are others who may progress to worsening of their clinical condition. These patients may have a combination of signs and symptoms to include fever, cough and trouble breathing leading to a severe respiratory illness. When patients get to this stage of the illness, hospitalization is required. Sometimes, these patients have comorbidities, meaning they have underlying medical problems.
If you have a milder form of the disease, you should notice fever or chills, cough, difficulty breathing muscle ache, fatigue, sore throat, congestion and runny nose, new loss of taste or smell, sore throat, nausea, headache, vomiting and diarrhea. The milder form of the disease may present with fever.
The more severe form of the disease presents with trouble breathing, confusion, persistent chest pain or feeling of pressure in the chest and cyanosis which is where you would see a blue appearance of the lips or face. We are still learning about this disease so there can be newer signs and symptoms that can vary from person to person. This depends on the organs that are affected initially or as the disease progresses.
How do we prevent infection with SARS-CoV-2 (COVID-19) disease?
We all need to do our part to prevent or at least slow down the spread of this disease. It is important for us to protect ourselves, our families, our friends and others from getting this infection. We all should take the time to learn about this disease and stay abreast of updates from your primary care doctor, WHO, CDC, PAHO, your local Ministry of Health and other health care entities.
What can we do to prevent this disease?
We must wash our hands with soap and water for at least 20 seconds. Think about the Happy Birthday song or for the track and field fans, this is close to the average time of a 200-meter race.
Use an alcohol-based hand sanitizer with at least 70% alcohol and make sure you rub your hands, thoroughly.
Avoid touching your face.
Wear a mask. Children under 2 years should not wear a mask due to the risk of suffocation.
Practice coughing and sneezing etiquette. Cough in your sleeves and not in your hands. You can also use a tissue. Please remember to discard this after use to get rid of a potential source of infection. Yawning may have the potential to spread infectious particles. Let's do our part to mitigate the spread of this disease.
Stay home if you are sick.
Physically distancing greater than 6 feet apart.
Avoid direct contact with common surfaces such as handrails and door knobs.
Wipe down frequently touched surfaces.
What should I do if I am exposed to someone with SARS-CoV-2 (COVID -19) disease?
If you become exposed, testing is recommended. You should quarantine at home for at least 14 days. If you live in a household with others, it is recommended that you separate yourself from your family members as much as possible. Avoid sharing bathroom and utensils. If your child is exposed, please contact their Pediatrician and watch for signs of infection such as fever, cough, trouble breathing, diarrhea and vomiting.
Who is at risk?
Older adults.
Men are found to be at higher risk of getting the disease than women.
People with chronic illnesses also known as underlying medical conditions such as:

Diabetes.
Hypertension.
Congenital Heart Disease.
Disease of the lungs. e.g. Asthma.
Autoimmune diseases. e.g. Lupus, Multiple Sclerosis, Rheumatoid Arthritis.
How can I diminish the risk of getting infected?
Incorporating healthy eating habits.
Daily exercise.
Healthy sleep habits.
Stress reduction.
Food or supplements with Vitamin A, C and D which will help to boost your immune system.
If you have a chronic illness, it is important to take your medication as instructed.
What is the treatment for COVID-19 disease?
Currently, there is no specific treatment for COVID-19 disease. Management is largely supportive and is based upon the findings upon clinical presentation. There are many ongoing research and clinical trials for drugs and vaccines, at this time.
COVID-19 and Children
It was initially reported that children are asymptomatic carriers. There is ongoing research to confirm the role that asymptomatic or symptomatic children play in the spread of COVID -19 disease.
Recently in the USA and Europe, there were reports of a Kawasaki like disease affecting previously healthy children. This disease, which was noticed one month after the COVID-19 pandemic started, is called Multisystem Inflammatory Syndrome in Children (MIS-C) or Pediatric Inflammatory Multi-Systemic Syndrome in Children (PIMS). This is a condition that involves inflammation of multiple organs. It appears that this disease is associated with SARS-CoV- 2 virus infection or COVID-19 disease. Most children were not found to have underlying medical illnesses, based on the studies in NY and the U.K. The researchers also found that children of black or African descent were more likely to be affected with MIS-C.
The Criteria as presented by the A.A.P per CDC on May 14th 2020.
The CDC provided a case definition for MIS-C in a health advisory :
"An individual under 21 years presenting with fever, laboratory evidence of inflammation and evidence of clinically severe illness requiring hospitalization with multisystem (>2) organ involvement (cardiac, renal, respiratory, hematologic, gastrointestinal, dermatologic or neurological) and no alternative plausible diagnoses; and Positive for current or recent SARS-CoV-2 infection by reverse-transcriptase polymerase chain reaction, serology or antigen test; or COVID-19 exposure within the four weeks prior to the onset of symptoms."
MIS-C/PIMS is a Kawasaki like disease where children present with signs and symptoms suggestive of Kawasaki Disease, but in this case, it is associated with the SARS-CoV2 virus and COVID -19 disease."
Signs and Symptoms of PIMS/ MIS-C:
Fever
Strawberry tongue
Conjunctivitis (redness of the eye or pink eye)
Peeling of the palms and soles
Lymphadenopathy (lymph node enlargement)
Gastrointestinal symptoms (vomiting and diarrhea)
The most dangerous consequence of this disease is Coronary Artery Aneurysm. This is enlargement or dilatation of the major blood vessel in the heart which can lead to complications such as a heart attack. Children affected by this disease require follow- up and monitoring by a Pediatric Cardiologist.
Conclusion
We have learnt more about the SARS- CoV-2, however research is ongoing to determine any unknown characteristics of the virus and COVID-19 disease. This Pandemic is far from over. Infection with SARS- CoV-2 is not the end because most people do recover from this illness. Severe illness and complications are what we want to avoid. It is important to follow the guidelines to control and mitigate the spread of this disease. It is recommended that you communicate with your primary health care physician if you have any concerns. It is also important for your child to see a pediatrician or be taken to the ER, if any of the above signs or symptoms are evident or if you suspect any developing illness. This is indicated especially if there is exposure to COVID 19 or someone who is infected with SARS- CoV-2 virus. We would like to prevent the spread of this disease, so we should be physically distanced, but remain socially connected. While there is no foreseeable end to this pandemic at this time , we should be optimistic, continue to practice safety measures and stay informed.